- Zimbabwe's President Robert Mugabe recently reshuffled his Cabinet
- He created a new ministry of cyber security and appointed Mr Patrick Chinamasa to the post
- Zimbabweans have branded Mr Chinamasa "the Minister of WhatsApp"
Zimbabwe is so far ahead of other African countries that it now has a "Minister of WhatsApp." Well, at least according to humorous social media users.
In his recent Cabinet reshuffle, President Robert Mugabe created a new Ministry of Cyber Security, Threat Detection and Mitigation. He named Mr Patrick Chinamasa as the minister.
Before long, social media users faked a letter from him declaring that all WhatsApp admins should register with his ministry.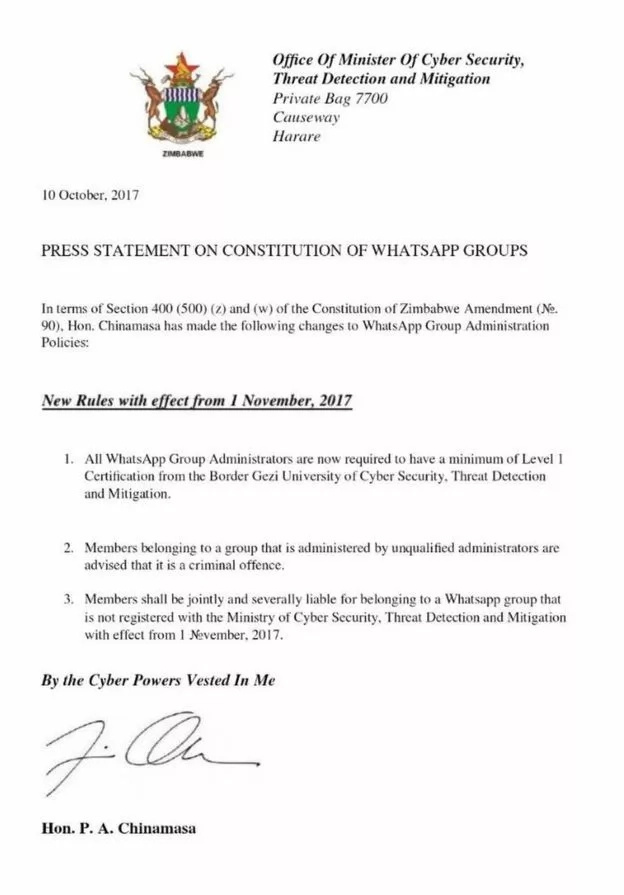 In addition to the fake letter, Zimbabweans made many more jokes on social media about the new ministry and Mr Chinamasa.
See some of their reactions below.
READ ALSO: Residents live in fear as security personnel team up with land guards to terrorize them
READ ALSO: 6 super moments of John Mahama that showed how "sweet" power is
Source: Yen.com.gh