- Man builds fully functional pedal car using scrap metals
-The previously jobless man even uses the car to take his kids to school
-He has become a celebrity and the pride of his community. But not everyone is happy
A 50-year-old carpenter who lost his job about 10 years ago becomes celebrity in his village after he built a pedal car using scrap metals.
Mr Simon Skhosana who comes from a tiny village called Moloto in north east of Pretoria, South Africa, built the 'jua kali' car using old bicycle parts and scrap materials. He is yet to finalize it, but it's already on the road and the villagers can't just get enough of it.
"I use two chains to pedal the car. It has 11 gears, a foot brake and steering wheel that I made using bicycle wheel. It also has a side and rear view mirrors and manually operated windshield wiper," explains the-father-of-two.
READ ALSO: What would you do if you got a Ghc248k Audi from your father who you have been separated from for 18 years?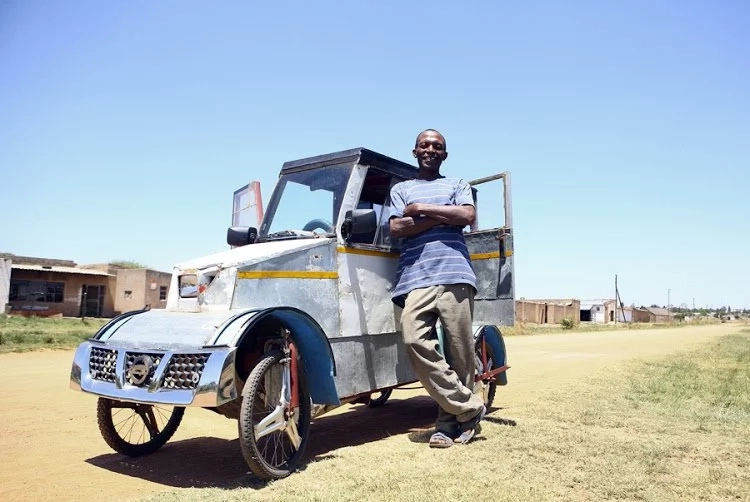 READ ALSO: Young lady gets a surprise proposal when she treats her friend to a night out
Mr Skhosana uses the car to take his kids to school and can carry passengers. It also helps him with tasks such as transporting heavy luggage. And that is not all.
"There was a time when my child had to go to hospital, about 10 kilometers away from home, for a medical check-up but I did not have money for transport. So I put him and my wife on the back seat and off we went'" he says.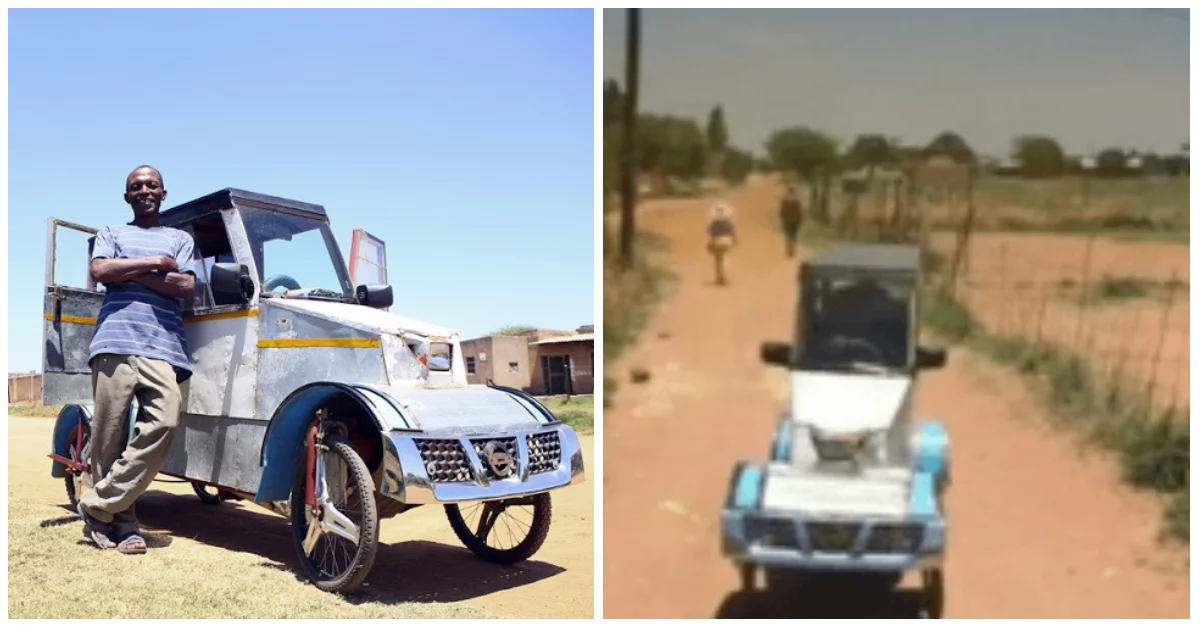 Though he doesn't make much money using the car, his wife Mrs. Matholwane is very proud of him , and his village celebrates him for the creativity. But not everyone is happy with the pedal car.
"Traffic police wouldn't let me be in peace! Every time they spot my car, they would stop me and demand that I take 'this thing' off the road. Some of them joke that I must have a driver's licence'" says Mr Skhosana.
READ ALSO: Arsene Wenger slams Manchester City star, labels him a diver
Unemployed man a sensation in his village with pedal car built from scrap
Subscribe to watch new videos
Source: Yen.com.gh