A wedding day is one the most memorable days of a person's life. Promising eternal love to each other in front of your family and friends…and your groom's ex-wife.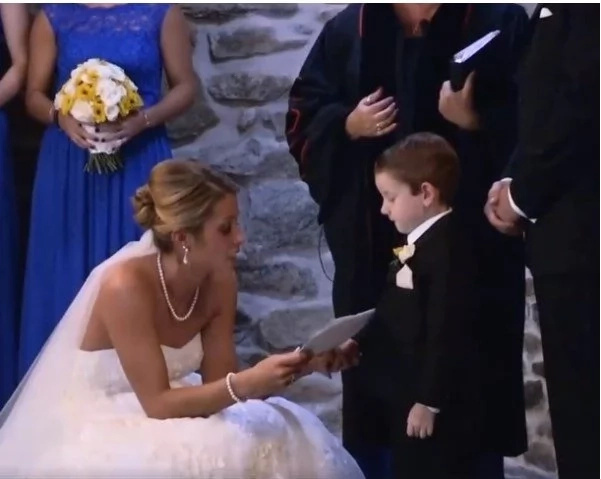 READ ALSO: Man shares photos of his incredible transformation into woman in 17 months
Yeah, that could get a bit awkward, especially if the bride asks her groom's ex-wife to stand up while giving her vows.
That was certainly the case with bride Katie Hild, who stunned everyone with her emotional wedding vows when she included her hubby-to-be's ex-wife in them.
Katie understood that when she and Jeremy, the groom, married, she wouldn't exactly be starting a new life from scratch.
With her marriage to Jeremy came a stepson named Landon, and through him a life-long connection to Jeremy's ex and Landon's mother, Casey.
Yen.com.gh learned from Inspire More that although Casey is now in a relationship with a man named Tyler, all four adults would be sharing the important responsibility of raising Landon. Katie wanted to assure everyone involved that it's a responsibility she takes seriously.
READ ALSO: Adorable little girl knows exactly how to drop the beat
In Katie's words:
"Co-parenting means sharing the duties of a child. So, I didn't tell anyone what I was doing. I not only vowed to Jeremy. I gave a vow to Casey and Tyler. Then I vowed to Landon, and then to Jeremy. I wasn't just going into a marriage with Jeremy and needed his trust and respect, but I needed Casey's and Tyler's, too. One thing I promised, was to be ONE family, always. I know without hesitation, we will never break that promise."
Take a look at Katie's emotional vows:
Subscribe to watch new videos
Source: Yen.com.gh