- Elias Raphulu has been running for most of his life
- In 2001, he was shot in the leg
- He continued running after recovering and has won 23 races
A 71-year-old grandfather is still a top runner in his age group despite suffering a gunshot wound in the leg in 2001.
Elias Raphulu, from Soshanguve in northern Pretoria, South Africa is a member of the Runners Store club and started running at the age of 40.
Yen.com.gh has established that he has won 23 of the 24 races he has entered. He started in 1986 and competed until 1995 when he took a break.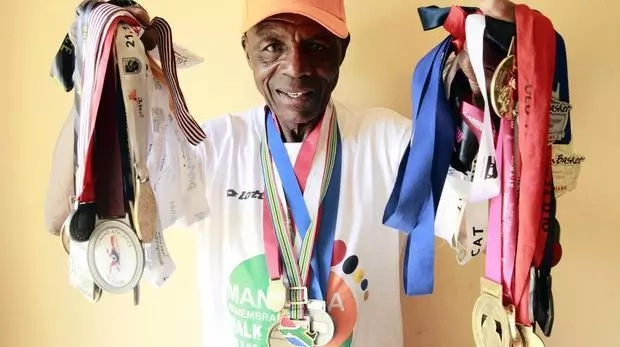 In 2001, he was shot in the leg during an attempted hijacking. Doctors told him he could never run again but his passion still burned inside him.
A few years later, he asked doctors to remove the metal pin they had inserted in his leg after his injury. He began running again soon afterwards.
READ ALSO: Nigerian man buys car for wife after 12 years of dating and 4 years of marriage (photos)
In an interview with iol.co.za, Raphulu said:
That is when I started to run again, nine years after the shooting, and from there I have been unstoppable.
He recently won first place in the Mandela Remembrance Walk's 10km-run category for the 70-79 years age group.
READ ALSO: Lionel Messi and family merry with Santa after Barcelona El Clasico victory
Raphulu's training schedule is quite intensive. He runs at least 10km on Wednesdays, Fridays, Saturdays and Sundays.
He advised the youth to look after their bodies, limit alcohol intake and keep a healthy diet.
Source: Yen.com.gh