Baby born the size of chocolate bar defies all odds to celebrate Christmas at home
- A baby who was born four months early becomes a miracle after she defied all odds
- The little baby girl is said to be the exact size of a chocolate bar
- Despite all odds, the little girl was able to make it home in time for Christmas to celebrate with her family
Sussie Bea Patrick, a little baby girl who was born four months to her due date, has defied all odds. The little girl was able to make it home in time for Christmas to celebrate with her family.
The baby girl was said to have been born at the size of a chocolate bar, weighing just one pound and one ounce. Doctors had told the her parents to expect the worst.
Jodie Marrin, 36, and 38-year-old Lee Patrick, had been told that their daughter would have no quality of life should she survive.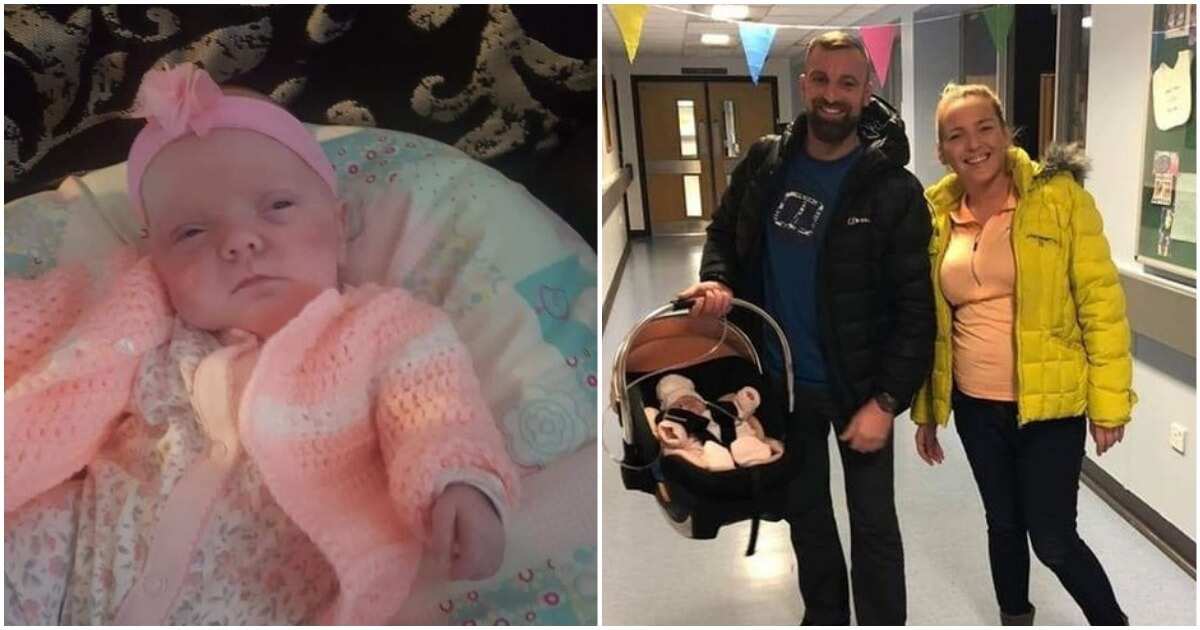 The couple, however, refused to give up on their baby girl and they have been rewarded for having faith as little Sussie defied all odds to celebrate her first Christmas with her parents, five months after she was born.
Lee had revealed that Jodie's pregnancy was normal and healthy. He said: "Everything was fine with mum all the way through. It was sepsis - mum contracted it or baby contracted a bug and passed it on to Jodie.
She was feeling unwell for about 24 hours. When it got to 11:30pm on June 27 I said we're going to the hospital, this isn't right."
READ ALSO: I'm still a virgin - Yaa Jackson reveals
"She was throwing up. Within 15 minutes she was giving birth in the back of the taxi to the hospital. I grabbed her and said 'help!' This was in Arrowe Park in one of the triage wards. About 10 minutes after we got to the hospital she gave birth."
According to the father, after Sussie was born, doctors had told them that they would have to say their goodbyes.
READ ALSO: Afia Schwar fires back at her former boyfriend's mother
Lee said: "We were told that when she came out we would have to say our goodbyes. They said she wouldn't be breathing for long and might not look like we expected. They said they would let us be together as a family."
"She came out and gave a little whimper so they started working on her. We were told it wasn't worth [treating her]. They said she wouldn't have a quality of life but we said 'look that's something that we will have to deal with but if she's fighting we have to fight'."
However, the little girl who was able to come home for Christmas, is still on oxygen. Lee will be taking part in this year's Santa Dash along with another dad to a premature baby girl in aid of Ronald McDonald House at Arrowe Park.
READ ALSO: Fella Makafui flaunts Medikal's 'promise ring' in latest photo
Meanwhile, YEN.com.gh had earlier reported that a Nigerian man had shared the story of how his wife gave birth to a cute baby despite two pregnancy complications. The man had taken the advise of his mother which worked perfectly for them.
Star Gist: Rosemond Brown a.k.a. Akuapem Poloo discloses how much she earns | #Yencomgh:
Subscribe to watch new videos
Your stories and photos are always welcome. Send us a message via YEN's official Facebook page.
Click here to get the latest exciting English Premier League news. Get match highlights, reports, photos & videos all in one place
Source: YEN.com.gh