- A Nigerian man has shared the sad story of how a baby boy died at the hospital
- It was reported that the little boy had died after doctors refused to treat him
- The man had alleged that the boy's parents couldn't afford to pay for the treatment at the moment
A Nigerian man identified as Mike Obioma has taken to social media to share the tragic story of how a baby boy allegedly died at a government-owned hospital.
The baby had been rushed into the hospital after showing signs of severe illness.
The young man had alleged that he witnessed a baby boy's death at a government-owned hospital after doctors refused to treat him.
According to Obioma, the baby's father and mother had rushed him to the hospital. He also claimed that the doctors had refused to treat the baby because his parents were unable to pay his bills at the moment.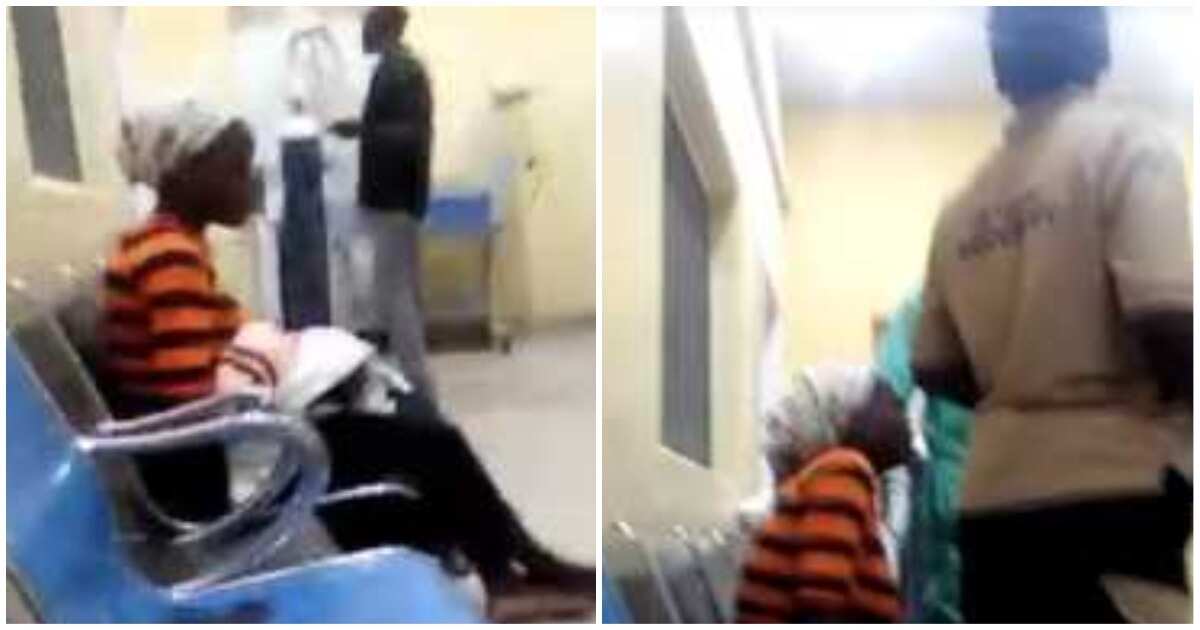 READ ALSO: Baby born the size of chocolate bar defies all odds to celebrate Christmas at home
He alleged that the parents of the little boy had asked the doctors to give them time to ask relatives for the money. They pleaded with the doctors to treat the boy who reportedly needed oxygen.
The young man who shared the story on Facebook noted that despite the parents' words to the doctors, they refused to treat the boy.
He claimed that the boy was abandoned until he kicked the bucket. Obioma alleged that the baby's death is the third he witnessed in the hospital.
READ ALSO: Meet Prince William Darlington, the guy who 'used and dumped' Afia Schwarzenegger
According to him, he has been undercover at different government-owned hospitals to investigate how things are run.
Obioma said: "Imagine a country where little babies die helplessly. So I went undercover to some government hospitals, planted camera on myself to show you the level of corruption and ineptitude in our Nigerian hospitals. In the past months have travelled to more than 10 government hospitals in Abuja, Nasarawa, Benue and Plateau State NorthCentral Nigeria.
This shocking Live Video is one of the numerous babies I watched die right there in a government funded hospital. Infact this particular hospital this was the 3rd baby that died within 8 hours of my stay there.
This man Mr Christopher had rushed his baby boy to the hospital that day. He was showing signs of severe illness. One doctor attended to him and told him to go buy card the baby needs to be placed on oxygen. Mr Christopher after buying the card pleaded that he didn't have enough money but he will call his relatives in a bit that treatment should commence immediately to save his boy's life. All those fell on deaf ears he was abandoned there like an animal until his son passed away right inside the hospital. I was the one who gave Christopher 500 naira to go home with his profusely weeping wife and bury his child. I have been calling him since then I have his phone number. I feel deeply sorry for this man."
READ ALSO: Afia Schwar fires back at her former boyfriend's mother
Ghana News Today: Colleges of Education Closed Indefinitely / Work Continues at GIJ | #Yencomgh
Subscribe to watch new videos
Your stories and photos are always welcome. Send us a message via YEN's official Facebook page.
Click here to get the latest exciting English Premier League news. Get match highlights, reports, photos & videos all in one place.
Source: Yen.com.gh