Woman jumps into late husband's grave to protest release of his alleged murderer (photos)
A Kenyan woman Mary Wangari has just reportedly jumped into her late husband's grave to protest over the release of his alleged murderer. The man died on Monday, December 3.
Mary threw herself into the grave just the pastor was giving his sermon and demanded that late Edward Nwangi's body must be taken back to the morgue until his alleged killer is found.
Mary was also accompanied inside the grave by her cousin, Charles Mucheru, and sat next to her.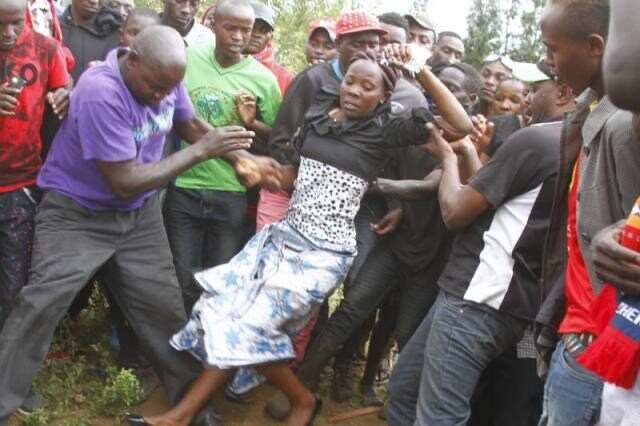 It was gathered that Edward's remains was found in a farm close to his home in Bahati.
READ ALSO: 7 sad photos from KABA's graveside pop up on 1st anniversary and they are heartbreaking
However, the deceased and two others reportedly stormed the suspect's home after learning that his lover was in the man's house.
Residents disclosed that: "The three went to the suspect's house at night, one of them armed with a knife. They attacked him but he overpowered them and snatched the weapon. Two of them fled to safety." The deceased was said to have been stabbed in the chest several times.
"According to a postmortem examination report, Mwangi died after being stabbed through the heart. The suspect explained the circumstances under which he killed my cousin and surrendered the bloodied weapon to the police.
"Mwangi's body was taken to Nakuru County mortuary. Those from Kirinyaga don't know the pain we are going through. We want justice for Edward. Burying him while his killer is walking free is denying his immediate family justice," Mary's cousin stated.
READ ALSO: Anas breaks silence after Akufo-Addo removes three judges from office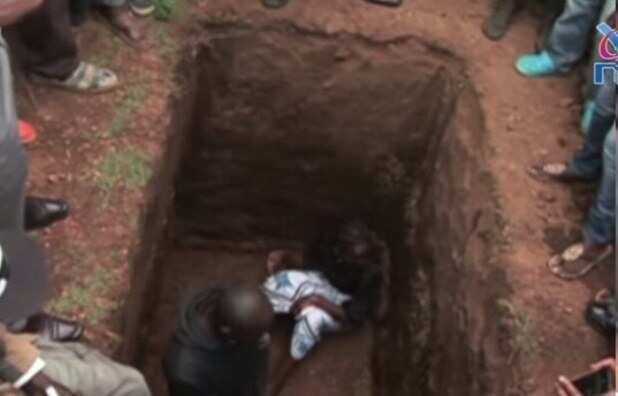 Mary also disclosed that the suspect was taken back to his home in a police vehicle. She added that, they denied her access of an Occurrence Book (OB) number, so she can follow up the case.
READ ALSO: John Mahama attends marriage ceremony of former beauty queen (Photos)
The young widow added that: "All I want is justice for my husband. He will not be buried before I see the suspect in the docks. I want a fair hearing of the matter."
However, the burial ceremony was reportedly stopped for over two hours as residents and kin pleaded with Mary and her cousin to let the burial proceed.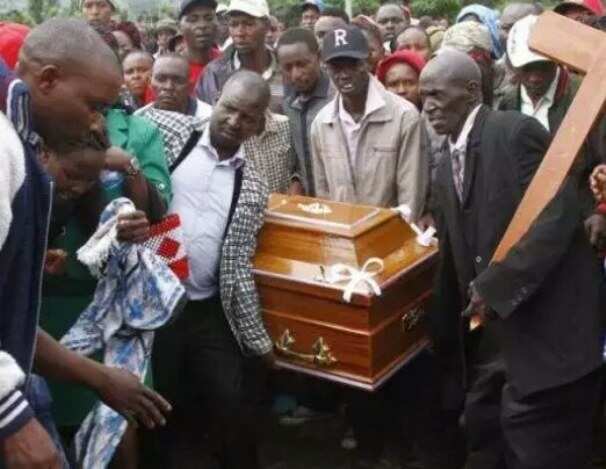 Late Ewdward's father said: "Mary, listen to me. This is my son. I'm also in pain and want justice for my son. Allow us to bury him and follow up the matter later."
READ ALSO: Obinim gets a brand new Rolls Royce from a German man he 'gave a kidney to' (Video)
Yenkasa: Is Dumsor back? | #Yencomgh:
Subscribe to watch new videos
Do you have a story to share with us? Inbox us on our Facebook/Instagram page and we could feature your story.
Click here to get the latest exciting English Premier League news. Get match highlights, reports, photos & videos all in one place
Source: YEN.com.gh