The gift of life is indeed a beautiful one hence the reason a lot of people go above and beyond to ensure they live a long and healthy life worth celebrating just as this grandma is currently been celebrated.
Living a long and healthy life in a country like Nigeria is not only considered an achievement but a blessing. In a time where healthcare is non existent coupled with a deteriorating health system, no one can blame Patience Achenyo Daniel for celebrating her grandmother.
She took to a closed Facebook group to share photos of the aged woman, celebrating her as she turned an amazing 130 years. She wrote: "Help me celebrate the one that give birth to my own mother. She is one hundred and thirty years. And she can still do everything by her self. OMAM Help me celebrate her"
READ ALSO: Gifty Osei and NPP's Hopeson Adorye finally marry (Photos, Videos)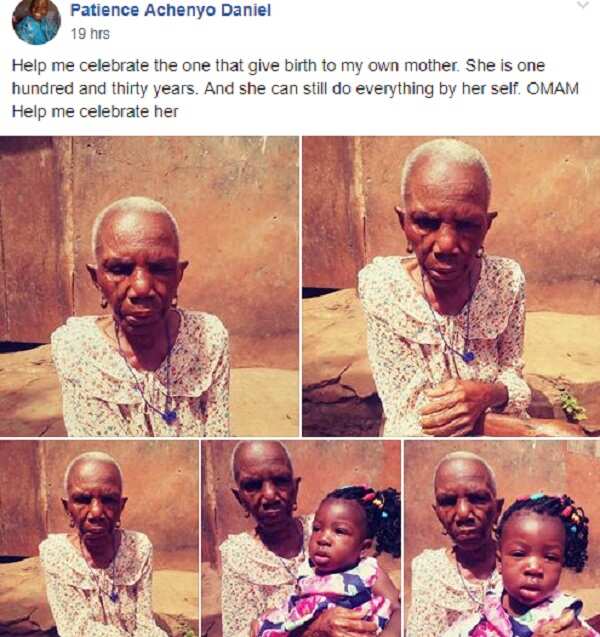 The opportunity to spend this long with a loved one on earth is simply amazing and should never be taken for granted.
Happy birthday to her!
READ ALSO: 'RapperHolic' was worse than a trip to the dentist - Jon Benjamin
Ghana News Today: Sad Story of How Woman Lost Baby at Gov't Hospital In Kumasi | #Yencomgh
Subscribe to watch new videos
Click here to get the latest exciting English Premier League news. Get match highlights, reports, photos & videos all in one place.