Kenya terror attack: Woman wins hearts by serving breakfast to police officers at crime scene
An elderly lady has warmed the hearts of many after she was spotted serving tea and bread to security officers and paramedics at the 14 Riverside Drive in Westlands, Nairobi, amid rescue operation following a terror attack.
The yet to be identified kind-hearted lady arrived at the busy crime scene in a white minivan which appeared to be fully packed with bread, tea and cups.
READ ALSO: Tears flow as cooking gas explosion kills beautiful university graduate (Photos)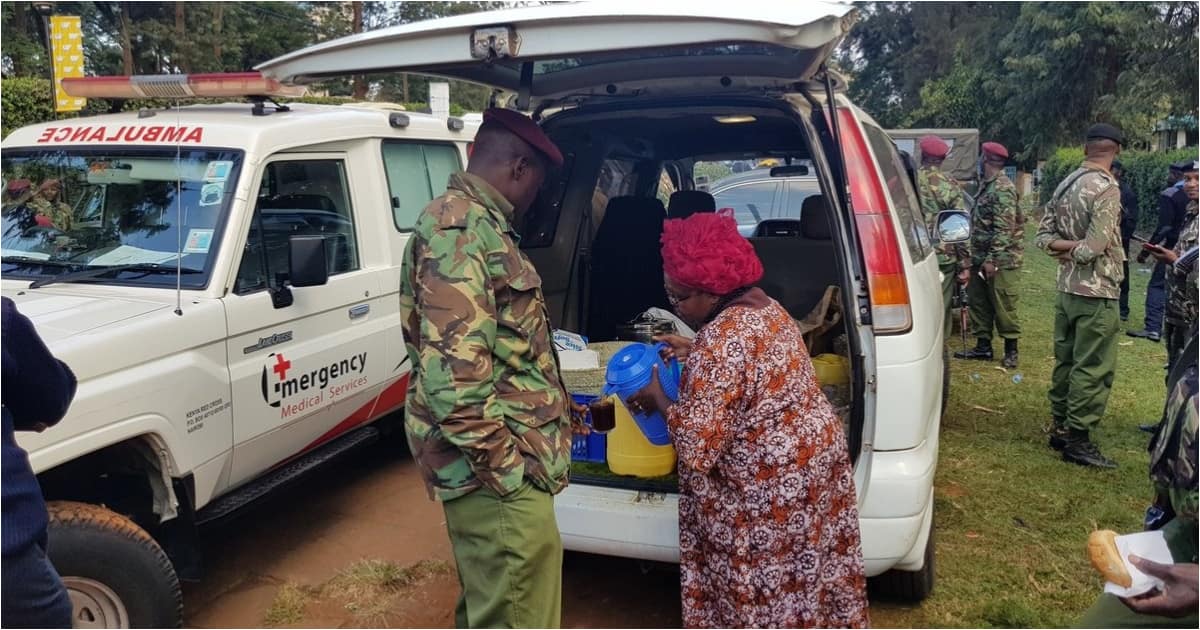 READ ALSO: Detectives term 14 Riverside Drive attack act of terror
The photo emerged on the morning of Wednesday, January 16, showing the unnamed lady interacting with the police officers and serving them tea and bread following hours of intense security operation that started at about 3pm on Tuesday.
Official reports seen by TUKO.co.ke on Wednesday morning indicated the multi-agency security team deployed to the scene had manged to take control of all the buildings at the 14 Riverside Drive including the dusitD2 complex.
READ ALSO: 10-year-challenge: How your favourite celebrity looked 10 years ago (Photos)
Heavy gunshots and explosions rocked the scene for the better part of Tuesday as security officers moved in to flush out the criminals said to be five in number.
At least three cars were reduced to ashes and scores injured following the attack, which came on the anniversary of the El Ade terror attack that claimed lives of more than 100 Kenyan soldiers in Somalia.
READ ALSO: Details of how NAM1 defrauded 53 people in 2012
According to police spokesperson Charles Owino, over 50 people were rescued during the night operation.
The terrorists were, however, holed up in one of the buildings and gunshots could still be heard on Wednesday morning.
The militia group al-Shabaab has since claimed responsibility for the seemingly well orchestrated attack at 14 Riverside Drive.
Source: YEN.com.gh