- A Boeing 737 slid off a runway into a river in the United States
- The plane was carrying 136 passengers and 7 crew members
- No casualties was recorded but about 21 passengers sustained minor injuries
Less than two months after the fatal crash of the Boeing 737 MAX 8 of the Ethopian Airline, a chartered Boeing 737-800 has reportedly slid off a runway into a shallow river in the United States.
The plane, according to the police was arriving from Naval Station Guantanamo Bay in Cuba with 136 passengers and seven crew members, when it crashed into the St Johns river at the end of the runway at Naval Air Station Jacksonville, Florida, late night on Friday, May 3.
No fatalities were recorded but about 21 of the passengers onboard sustained minor injuries when the plan slid off the runway.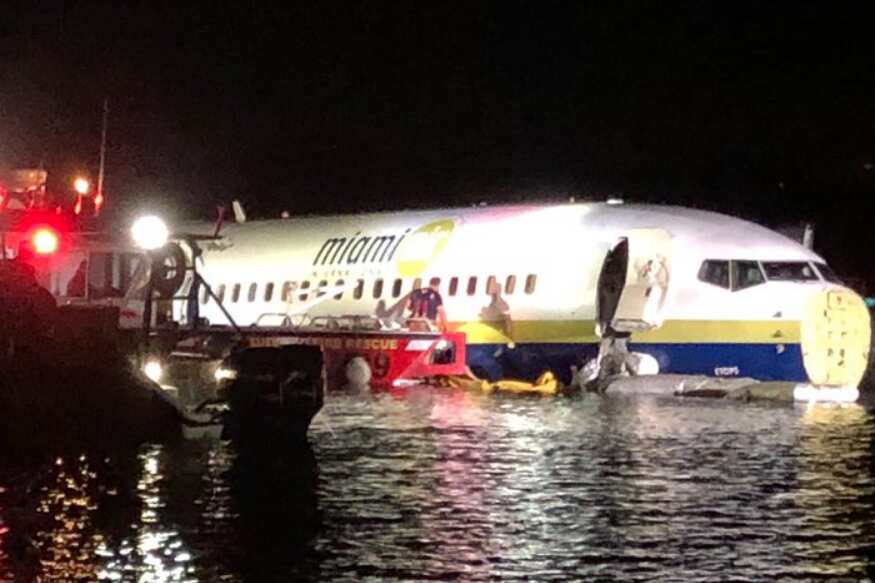 The river was reportedly shallow and hence, the plane was not submerged in the water which was why the passengers came out alive.
The Jacksonville Sheriff's Office twitted about the crash Friday night and assured the public that all injured passengers have been taken to a hospital.
A passenger on board the plane, Cheryl Bormann, who spoke with CNN and described the experience as terrifying, said the plane had a hard landing before it slid off the runway.
Bormann said: "We came down, the plane literally hit the ground and bounced. It was clear the pilot did not have total control of the plane. It bounced again.
"We were in the water, we couldn't tell where we were, whether it was a river or an ocean."
READ ALSO: Malaria vacinnes are safe for use; disregard social media reports - Deputy health minister
Note that the Boeing 737-800 is different from the Boeing 737 MAX 8 which was banned from flying after two fatal crashes.
Meanwhile, YEN.com.gh earlier reported that a preliminary report of investigation conducted by the Ethiopian flight authority on its Boeing 737 Max 8 jet crash has vindicated the pilot of the plane and other members of the crew aboard.
The Ethiopian Airlines flight between Addis Ababa, Ethiopia, and Nairobi, the Kenyan capital, crashed on Sunday morning, March 10, killing 149 passengers and eight crew members aboard.