Despite the busy engagements, a young student, Ntinyari Rutere, has doubled up her hustle by juggling as a cabin crew member and a taxi driver to gain financial stability.
The narrative of 27-year-old student at Daystar University, Ntinyari Rutere, who works as a taxi driver and cabin crew member will motivate you to take a step of faith towards achieving your financial stability and success in life.
Born in a poor family and taken care of by her grandmother after her parents divorced, Ntinyari Rutere, the firstborn of her family, knew she had to work hard in life to make ends meet.
Rutere's typical day usually starts at 4:30am when she wakes up and drives to Wilson Airport for her morning shift as cabin crew member.
READ ALSO: Woman who claims brother has been 'charmed' seeks help to eliminate sister-in-law
"My work shift is very flexible because I mostly do mid morning flights and I usually come back at around 1pm. Once I arrive I check out the passengers and turn on my Taxify application because most of our passengers want to use taxi to drive to town," said Ntinyari in an exclusive interview.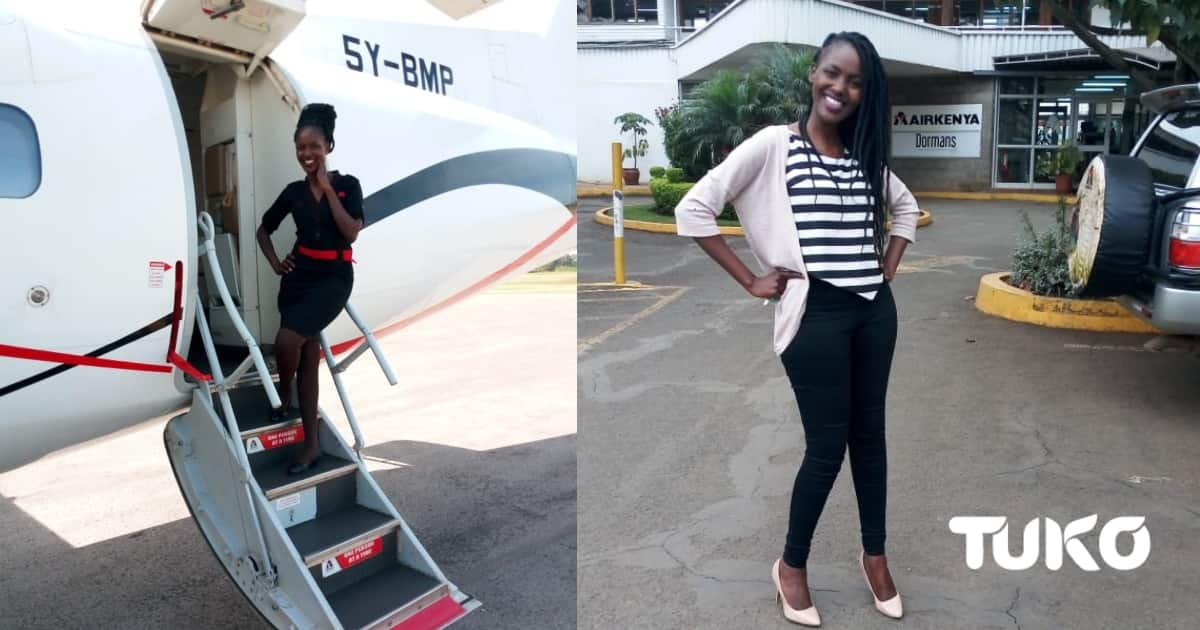 Once she drops her clients in the Central Business District, the diligent mother of one then joins her sister in delivering items to clients who orders from her clothes business.
"After like one ride or more, I reach out to my sister who manages my SN Trendywear business and ask if there are deliveries to be made, if there are then I deliver and quickly get back to my taxi business until 5pm," she said.
READ ALSO: Beautiful photos of Ghanaian first wife of Robert Mugabe wows Ghanaians
She then goes for her evening classes at Daystar University where she is studying electronic media and public relations.
"I know life is very difficult but you have to survive, be determined and do your best. Drop the mentality that this city belongs to the rich, it all belongs to us what determines is how you are determined to make ends meet," she said.
READ ALSO: Ghanaian former pro player Pops Mensah-Bonsu trailblazing the frontiers of NBA
Star Gist: I started acting because i was told i look like Suzy Williams - Kisa Gbekle| #Yencom
Subscribe to watch new videos
READ ALSO: Woman who returned millions found at ATM gets over GHc 38,000 reward
Have national and human interest issues to discuss?
Know someone who is extremely talented and needs recognition?
Your stories and photos are always welcome.Get interactive via our Facebook page.