- The power couple has been married for 25 years and is blessed with three children namely Jennifer, Phoebe and Rory Gates
- Despite their busy work schedules, with Bill always on the move, they still make time to do the dishes and other household chores as a family
- Cleaning the dishes at night before bed has become a tradition at the Gates, and this was after Melinda and Bill agreed to balance out the household chores
- She argued if women can lower their weekly household work from seven to five hours, then their workforce productivity would be boosted by about 20%
Most household chores are generally presumed to be the work of women, especially in Ghana where men are often ridiculed for helping their spouses with something as little as doing the dishes.
Perhaps these Ghanaian macho-men can learn a few things from billionaire Bill Gates, American business magnate best recognized as the founder of Microsoft Corporation, who has been married to his lovely wife Melinda, for 25 years.
In a recent media interview, Melinda who co-founded the Bill and Melinda Gates Foundation, the world's largest private charitable organisation with her husband in 2000, revealed the secret to their long-lasting and happy marriage.
READ ALSO: Bride who broke her virginity at 23 uses 34 bridesmaids for her beautiful wedding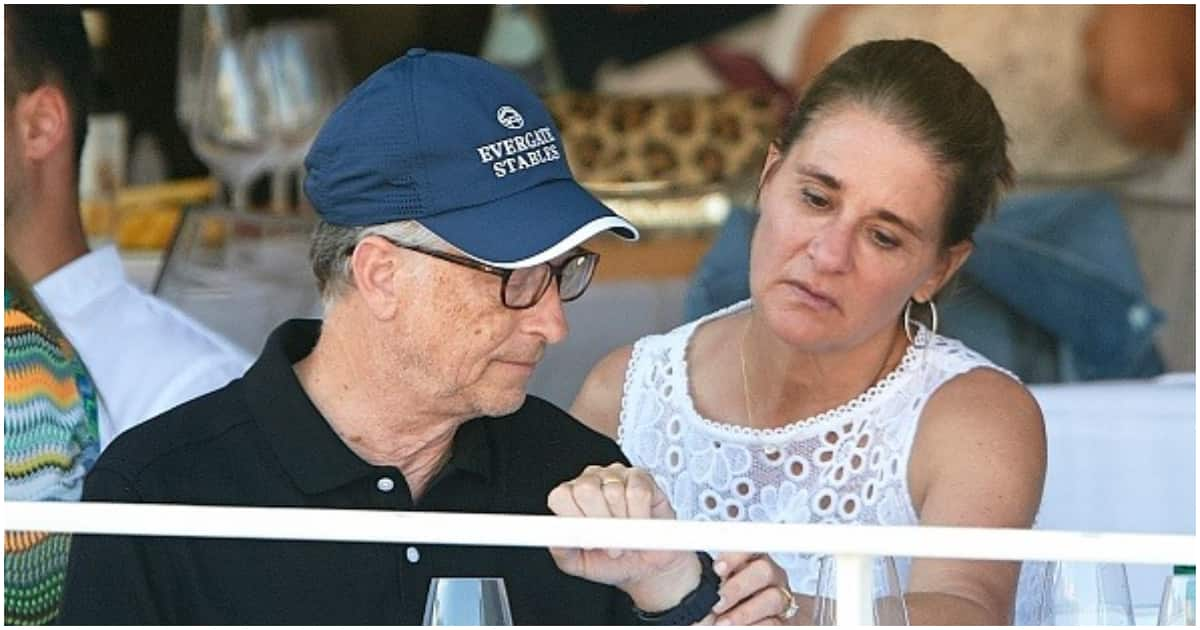 She told Business Insider despite their busy work schedules, with her billionaire husband almost always on the move, they still make time to do the dishes and other household chores as a family every night before everyone goes to bed.
READ ALSO: Taxi driver returns new iPhone 7 Plus lady left in his car
According to Melinda, women spend seven more years doing unpaid household chores compared to men in their lifetimes on overage.
She argued if women can lower their weekly unpaid household work from seven to around five hours, then their workforce productivity would be boosted by about 20%, adding that doing the chores with ones spouse can also make relationships stronger.
So at what point did she convince busy Bill to start doing the dishes with her?
Melinda said she and Bill had a series of conversations as a couple and in the process, learnt how to become more balanced in their marriage life.
And among the things Melinda really wanted to be balance out was of course the household chores, including washing the dishes.
"One night I realized I was still in the kitchen a good 10, 15 minutes after everybody else doing the last-minute things. Sometimes in the moment, my frustration just comes out. So one night we stood up after dinner and people in the family started to melt away, like, off they go upstairs. So hand on my hips, I am, like, 'Nobody leaves the kitchen until I leave the kitchen!'" she said.
Since that night, the Gates family, including Bill, do the dishes together every night before going to bed and no one needs a reminder.
READ ALSO: Young female teacher spends her school break time sewing torn uniforms of pupils
The wealthy couple met in 1987 when she joined Microsoft company as a product manager.
He was smitten by her and without wasting time, hit it off with request for a date, which she initially turned down.
After he insisted on taking her out, the pair started dating and eventually exchanged vows as husband and wife in a private ceremony held in Lanai, Hawaii. That was in 1994.
The power couple is blessed with three children, daughters Jennifer Katharine Gates (born 1996) and Phoebe Adele Gates (born 2002), and son Rory John Gates (born 1999).
READ ALSO: Black Panther star Lupita Nyongo's debut book urges girls to appreciate dark skin
Star Gist: I started acting because I was told I look like Suzy Williams - Kisa Gbekle| #Yencomgh
Subscribe to watch new videos
READ ALSO: Meet first black woman earn Ph.D. in Nuclear Engineering
Have national and human interest issues to discuss?
Know someone who is extremely talented and needs recognition?
Your stories and photos are always welcome.Get interactive via our Facebook page.