Every girl loves her shoes. They are possibly a girl's best friend next to bags and diamonds. But since diamonds are hard to come by, we will happily stick with our shoes.
With every girl that loves fashion and especially shoes, there are some basic shoes that must be found in their closets.   They are necessities when it comes to the shoe game and every girl that identifies as a true fashionista must definitely own them. These are 8 must-have shoes for every Ghanaian girl:
1. The classic black pumps: These shoes will never go out of style. They are your go-to shoes for any occasion; from the corporate space to an evening outing, these shoes will never disappoint. A true fashionista will invest in a second pair in another colour.
2. The ballet flats: Flat shoes are so popular these days. They are no more just for avoiding the heels, they have become a fashion necessity on their own. Whether plain-coloured or jazzed up with glittering stones, these shoes are a fun pair-up with almost any outfit.
3. Cute Sneakers: From basic running shoes to must-have fashionable shoes, sneakers have evolved into a bigger part of any outfit. A colourful pair goes with anything, even a wedding dress!
4. The casual sandals: Whether it's a simple coloured one for lectures or a little flashy pair for a night out with the girls, there should at least three different casual sandals in every closet.
5. Block heels: These shoes have made a comeback and are definitely worth your money. Block heels are classy, stylish shoes that pair with any outfit. They also come in different styles and are quite easy to find.
READ ALSO: 6 amazing Henna designs for the traditional bride
6. The Statement heels: These are the one (or two) pair of heels that turn any boring outfit into one for the red carpet. These are the girl's best friend in the form of heels. Your statement heels can be anything from glittered to bejewelled to a fusion of both designs and more.
7. Comfortable wedges: While they are not so popular, wedges are really stylish, fun shoes to match long, billowy outfits or dresses. Really sparkly wedges could also be turned into a night time shoe to pair with any great outfit.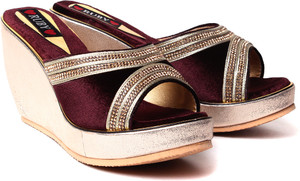 8. Mules: These shoes have come back with a bang! Really popular back in the early centuries, mules have returned in style with modern designs and colours and easily paired with any outfit especially for night outings.
Which shoes do you love the most? Share your thoughts in our comments section below or send us an email at info@yen.com.gh.
Source: Yen.com.gh