On Monday, September 26, residents of Accra enjoyed free rides around the city on the newly commissioned Bus Rapid Transit (BRT) service. The service is currently on specific routes; Amasaman-Achimota-Circle-Accra routes, but will be extended to other roads in Accra within the next 12 months.The service brought over 250 buses, and there was the intention to create special lanes for the buses, but due to cost and other factors, those ideas were scrapped.
Although the bus service commenced as planned, there were reports of low patronage by commuters in Accra. News of the buses running empty all day showed that the first day of the test plan for the service had likely failed. But maybe it's because people are no aware of the what the buses really are like, so these are 9 very impressive things you should know about the BRTs:
1. Free wifi. Yes, that's right. All you social media lovers and internet savvy buffs, the new BRTs have free wifi, that way all the interruption from the bouncing network signals won't mess up your tweet time.
2. 40 passenger seats for commuters.
READ ALSO: Dead on arrival: Low patronage rocks free BRT ride
3. Extra space for 44 other passengers.
4. Special seats for pregnant women and the elderly. This is a very important feature, as it allows people in this demographic to have easy access to seats that are specially designed for them.
5. Central air conditioning system. Well, we can't say no to that.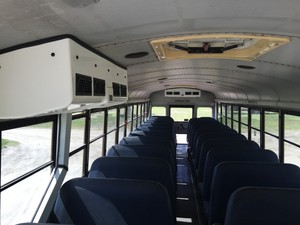 READ ALSO: Ghana Civil Aviation prohibits Samsung Note 7 on aircrafts
6.  E-payment system. This means those of us who enjoy using our debit card more than cash can easily pay for our fares without searching for change.
7. It is the same fare price as the 'trotro'. No change in fare prices, just a bit of an upgrade of the bus.
8. USB port systems for charging your phone.
READ ALSO: 11 breathtaking aerial photos that will make you fall in love with Ghana again
9. Special seats for disabled persons. Another very useful attribute, the bus allows persons with special needs to have a type of seat reserved especially for them.
Send us your thoughts by posting them in our comments section below or via our email at info@yen.com.gh.
Source: Yen.com.gh