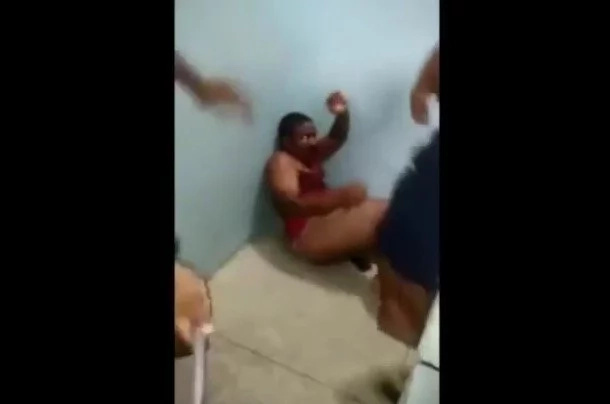 - Inmates in a Brazilian jail recorded the moment they punished a child rapist
- In the video the prisoners beat the bloodied child rapist with pieces of pipe
- Other inmates cheer as the beating continues while the child rapist cowers on the floor from his punishers
This footage captures the moment a group of violent inmates gang up on a fellow prisoner after they found out that he is a child rapist.
The video seems to have been captured in Brazil. The prisoners decided not only too punish the rapist but to record everything on camera.
The footage begins with the rapist, dressed in what seems to be a female one-piece swimsuit, already bloodied and hunched against a corner. His hands are raised in a defensive position attempting to protect his head and body.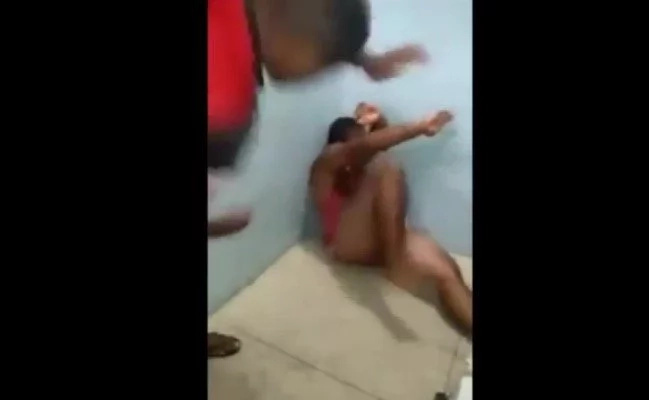 A heavily tattooed inmate is hulking over the rapist, his mere presence crushing the rapist. With a few blows to the head the rapist's defenses are shattered and he is sprawling on the floor.
Another inmate jumps in with what seems to be a piece of pipe and begins whacking at the rapist. The other inmate grabs a piece of pipe and joins the fun.
However the rapist tries to protect himself and that's when things get violent. That is when other inmates get enraged and join in. They pour some liquid over him and begin to beat him with their fists. The rapist tries to turn his back towards his attackers, but he is surrounded by them and wherever he turns an inmate is there to punch him in the face.
The rapist squeezes past the prisoners and takes a run through a crowded corridor. He stumbles and falls and his punishers are upon him like hawks. The punishment continues as the rapist is sprawled on the ground and the inmates keep beating him with their pipes.
Subscribe to watch new videos
Source: Yen.com.gh