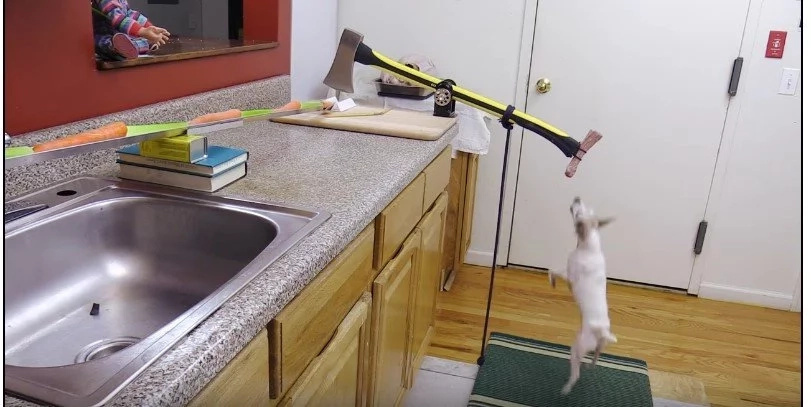 - This video shows how a dog can be forced to help in the preparation of a stuffed turkey through a series of Rube Goldberg machines
- The little dog is used to fuel the ridiculous machines but in the end he successfully helps in the making the turkey
- However it is debatable if putting up all the machines is actually worth the effort instead of just doing everything manually
An inventor came up with an ingenious way to make his dog help him prepare the Thanksgiving Turkey through a series of Rube Goldberg machines.
The small dog is the key element and muscle that fuels his inventions.
The first invention is an axe on a see-saw like contraption tied to a step. On the end of the axe there's a bone that the dog is trying jump up and grab. However each time the dog jumps up the step it was standing on raises, thus raising the axe handle and bringing the axe down on the vegetables and moving the bone out of the dog's reach. The cut up vegetables fall into a bucket attached to a small catapult.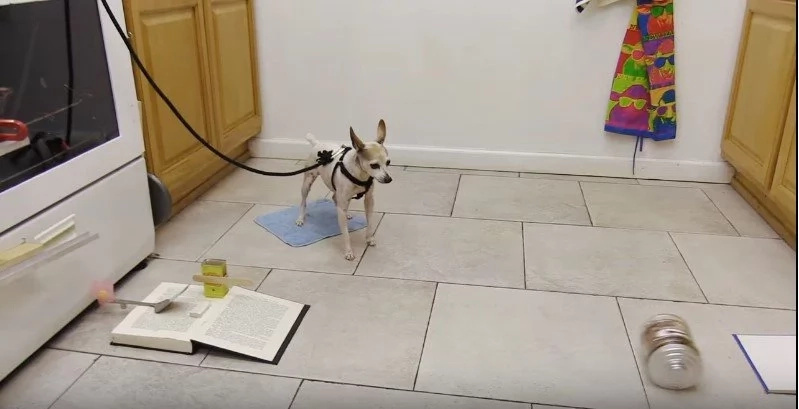 When the vegetables end a metal ball rolls into bucket that is attached to the bucket of vegetables thus catapulting the vegetables into stuffing the turkey.
The tired dog is then used to melt the butter. The butter is placed under the sleeping dog and its body warmth quickly melts it.
After smearing the butter over the turkey the inventor places it into the oven. However he states that timing is critical when preparing turkey and his following invention will help him with that.
He hangs a small magnetic weight to the end of the meat thermometer a when the magnet is pulled toward the weight it pushes a small ball down a slope that then drops into a small bucket and pushes a can of dog food to the other side of the room.
The dog's collar is attached to the oven shelf and as the dog moves forward it pulls the turkey out of the oven.
Subscribe to watch new videos
Source: Yen.com.gh