- A Kenyan woman who lives with a sick daughter has made a desperate appeal to Kenyans to help her raise her daughter's medical bill
- The little Emily Adongo needs KSh 150,000( GHS6500) to foot her KSh 1.5 million (GHS65.5k) required for surgery in India
- Similar stories of the girl have appeared on this very platform and the response and donations from the readers have been overwhelming
We put her words down in writing and her desperate plea for help from well-wishers.
READ ALSO: Two Ghanaians lose fingers, toe to frostbite after 7-hour trek to Canada
Greetings... It's Linet Aketch again...And I'm sorry to bother you like this. You're busy,I know.
And just like you, I've been pretty busy of late,too... Unable to go to work, praying for my husband to find work, trying to keep my crumbling family together and most importantly, watching over my severely sick girl.
READ ALSO: 45-year-old man who literally lives in hole of the wall (photos)
Unlike most of your little daughters,who are an year and a half old just like mine,my little Emily cannot walk. Or talk. Or even mumble words.
You're lucky your little girls can crawl around... Eat and laugh and play with you. You're lucky you have mischievous little girls. You're lucky she keeps you awake... Because she plays too much.
READ ALSO: NDC's E.T Mensah vies for Council of State membership
Mine keeps me awake too. But it's because,unlike your little daughters,mine cannot breath in peace. She cannot even move. And I wish I ever saw her smile.
In short,my little angel, Emily , as you already know by now, is suffering from a deadly heart condition called Type 1 Truncus Arteriousus meaning, Little Emily has a hole in her little heart. Emily struggles to do everything... To breathe,to move,to open her eyes,to move her limbs,she even struggles to live.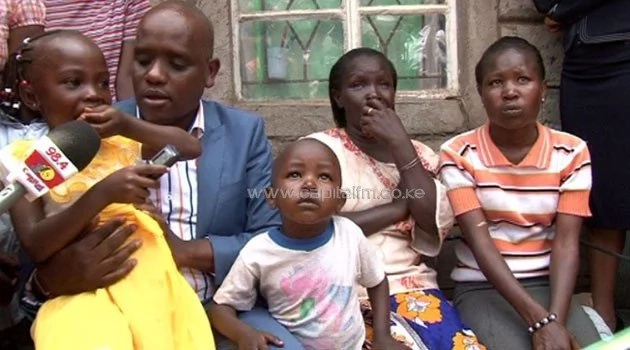 But you already know that.
My little Emily has driven me out of work. Not that I even have a very good job anyway. Or a job in the first place. I am a market woman. I sell wares and little things for profit... But Emily has driven me out of the market. And I have to sit with her at home... Watch her struggle to live. And watch her beg to be whole.
You see, her father, my beloved husband Benedict Adongo,is jobless. And that has made things here pretty thick. I won't lie to you.
READ ALSO: Mahama's Ford expedition has just been seen at Flagstaff house
Little Emily sits at a corner all day. I put her on the sofa.. And she has to sit there,fixed at the corner,unable to move or yap or smile all day. Her heart pounds hard. And her little head aches to a point of almost splitting apart. She evens looks much older than her age. And the sad sight of her little round shaved head breaks my heart.
Little Emily has appeared on QTV. And on Family TV too... To talk about her condition, the hole in her delicate heart and the slim chances of her survival. We took her to almost all media houses. But only QTV and Family TV opened their doors and aired our story.
READ ALSO: 1,393 pupils sit for 2017 private BECE
Emily has been to Hurlingham. At Dr. Christine Jowi's hospital, a cardiologist. And after little Emily met Dr. Jowi, it was made clear to me and her daddy, Little Emily had a hole in her heart. And needed Urgent surgery in India.
I see the Valentines cheer all around. The love and the cheer and the flowers and the kindness is all around.
You've always shown me and my little girl Love. And through you, we've almost already gathered all the Ksh 1.5 Million(GHS65.5k) we so desperately needed.
In fact, we've even booked the Hospital in Mumbai, India and are scheduled to travel anytime soon.
READ ALSO: Woman pledges daughter as tithe in church
If only, we can be able to raise the remaining part of the sum that will count as our plane ticket and accommodation fees abroad.
It's just some Ksh 150,000(GHS6500) that we need to jet off and put her on the Surgeon's Bed.
Kindly, to donate to Little Emily,and take her to a surgeon's bed abroad,Here's the simple process...
On this beautiful Eve of the Day of Love and Warmth, I am asking you to please take my Little girl to your heart and make her your Valentine.
To DONATE TO BABY Emily kindly use the M-PESA Paybill Number Medical Paybill No. 317111
How to Donate & Save the Life of Little Emmy :
• Go to M-PESA Menu
• Select LIPA NA MPESA then Pay Bill.
• Enter Paybill No. 317111
• Enter Your First Name as account Number
• Enter Amount e.g 10 Bob
• Enter your M-PESA PIN
Also,you can donate via Emily's special medical BANK account which is Acc number: 10131301000369 Emily Atieno Adongo Medical Account. Bank is CONSOLIDATED BANK.
You can also reach and donate directly to her uncle,Kennedy Omondi directly via 0728629726. He's in Nairobi coordinating the efforts. We're deep in some village in Homa Bay, Kisumu.
Kindly make her Valentine's Week worthwhile. That's all she asks. That's all we ask.
Blessings.
Love,
Source: Yen.com.gh