- A 70-year-old woman ran 7 marathons on each continent in 7 days
- The 7 marathons were organized by a travel company that offered a marathon on each continent from Africa to Antarctica
- She claims that she ran 70 marathons during her whole life and these 7 were very enjoyable and challenging
70-year-old Chau Smith ran a marathon every day on a different continent each day from Jan 25 to Jan 31.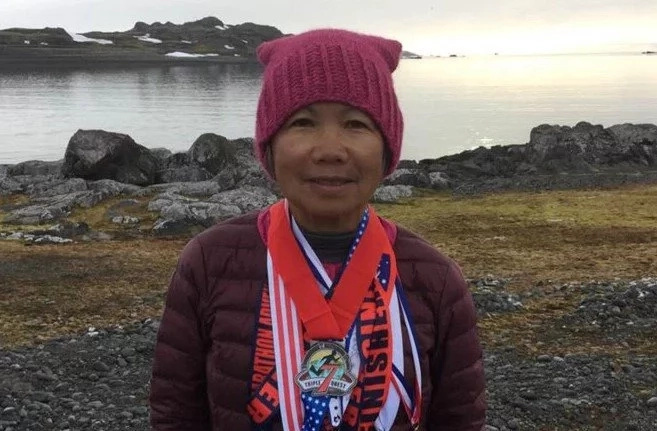 The seven day marathon is called the 'Triple 7 Quest' was organized by a travel company Marathon adventures. They offer marathons in Perth, Australia; Cairo, Egypt; Amsterdam, Kingdom of the Netherlands; Garden City, New York, Chile and even on King George Island, Antarctica.
READ ALSO: Ahmad Ahmad ends Issa Hayatou's 29-year reign as CAF president
"It took me eight months to really train. The last four months, I really put in long, long runs. Every week, I ran from 15 miles to 130 miles," said Chau Smith, the owner of a dry-cleaning business.
She recalls that each continent had its own challenges, for example she suffered severe sunburn under the scorching Australian sun.
However, Chau Smith claims that she ran over 70 marathons in her life and that the experience was worth it.
READ ALSO: Veteran Ghanaian actor, Waakye banned from intimacy
She said: "I live a stressful life. Every day, I work 10 hours a day but I always feel better. How I feel after I put in my running, I think that's important. It makes you feel good. I can't really put it into words."
Subscribe to watch new videos
Source: Yen.com.gh