- A university student is said to have committed suicide inside a police cell
- But his death has become mysterious after it emerged he was arrested following a disagreement with his land lady and not for being drunk
- Some students who held a demonstration claimed he may have been murdered
A university student has been reported to have committed suicide inside a police cell using his sweater.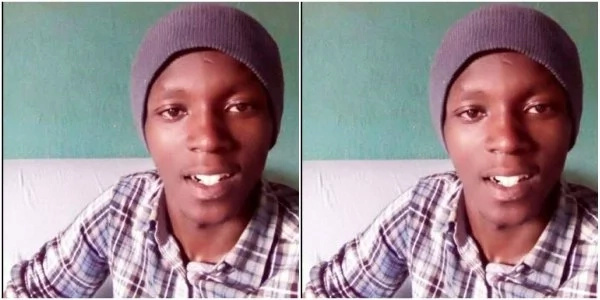 READ ALSO: Veteran Ghanaian actor, Waakye banned from intimacy
Police claimed on Friday March 17 that Tony Mongut, a Fourth year student at the Co-operative University of Kenya ended his life at the Hardy Police Station Karen.
The police further claimed he had been arrested while drunk and disorderly and that a roll of bhang was also found on him.
It is claimed that when he was locked in on Thursday, March 17 , he kept making noise while in the cell but that he was found dead the following morning.
READ ALSO: Car thief turns 'cripple' after being caught and stripped off his charms (photos, videos)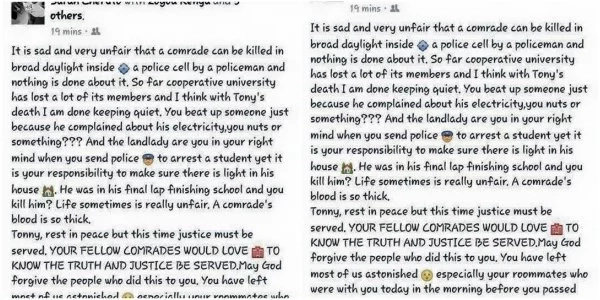 READ ALSO: I never begged KKD not to mention my name in assualt case – KOD
But the story has now taken a new twist creating more mystery as to how Tony died.
It is now turning out that the student was arrested after a disagreement with the hostel landlady over a broken down lighting system.
The lady lady is said to have called the police who then arrested the student but it remains unclear how he committed suicide as claimed by authorities.
Fellow students claimed the alleged suicide could have been a cover up for a well executed homicide.
READ ALSO: FIFA bans Ghana referee for life after bad officiating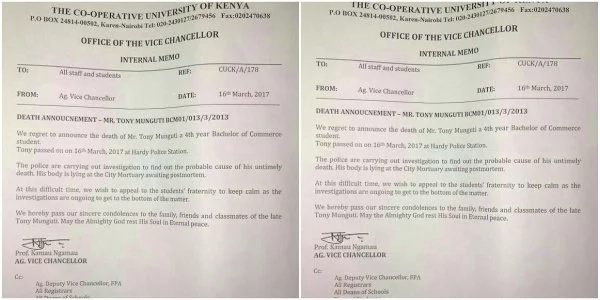 One student even claimed that Tony was beaten by the police and that this could have been the cause of his death.
The students held a huge demonstration outside the Hardy police station on Friday demanding for answers despite the university administration asking for calm.
Source: Yen.com.gh