- A hippo in South Africa won millions of fans
- She trekked 1,600km and was constantly followed by people and journalists
- However, she was shot and killed by hunters
This is the heartwarming and yet sad story of a hippo that lived free and stayed true to its wild spirit till the very end.
Named Huberta the Hippo, she gained immense popularity in South Africa soon after capturing the attention of animal lovers in 1928.
She was first discovered living near the St. Lucia estuary in the then Zululand. It is said this is where she started her long, 1,600km trek to Eastern Cape.
Her journey of three years through rural and urban areas fascinated journalists and animal lovers alike. Within a short time, she became famous, as people were curious as to where her final destination would be.
Huberta was never shy of people, many of who brought her food and took pictures of her.
READ ALSO: A snake in the grass makes a policeman squeal and run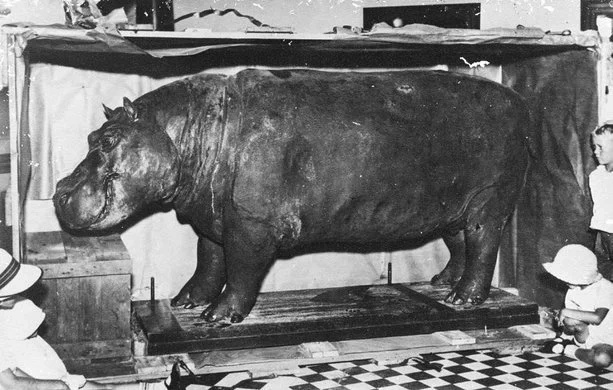 She successfully evade capture by concerned conservationists who felt she might be safer at a zoo.
She eventually arrived in East London in the Eastern Cape in 1931, having crossed an astonishing 122 rivers.
READ ALSO: Hunter captures huge 5.1-meter python carrying 78 eggs with his bare hands
The intense interest in Huberta prompted authorities to declare her "royal game" status, which prohibited hunters from hunting or capturing her.
However, hunters shot her killed her, causing profound sadness among her legions of fans. Although the hunters were arrested and fined, the damage was done.
Her body was preserved and placed at the Amathole Museum in King William's Town, where tourists can learn about her remarkable story.
Watch a hippo and her new calf in Kenya in the video below.
Subscribe to watch new videos
Source: Yen.com.gh