- A Malaysian man filmed the scary creature
- The video has gone viral
- Experts say it's a hammerhead worm
Click here for the latest stories in Ghana
A Malaysian man filmed a bizarre creature and the video has gone viral online as commenters wonder what it is.
Danish Ho was out hiking when he came across the scary slithery creature he initially thought was a snake.
In his video, Ho is heard asking: "What sort of snake is this?" The animal is seen moving like a snake, but experts say it's actually a worm.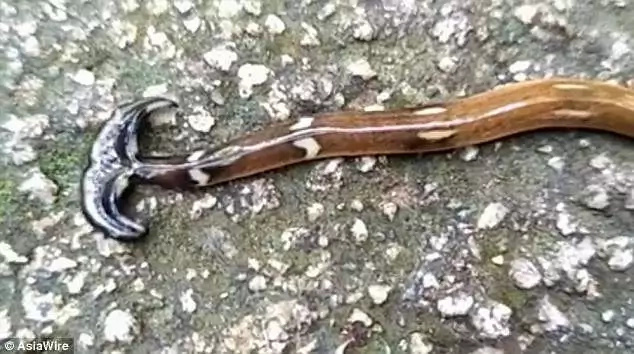 Known as the hammerhead worm, it is just as scary as it looks. It is carnivorous and eats its prey by hooking its pharynx into it and sucking its juices.
When there is no food, it is known to eat itself by digesting its own tissues, including its reproductive organs.
READ ALSO: Brave woman stuns men by removing 2.1-meter python that was blocking traffic
With regard to reproduction, experts say it's even more scary and science-fiction stuff. It lays eggs, but it can also fragment itself, after which the detached body parts develop their own heads within 10 days.
PAY ATTENTION: Get snappy news on the go on the YEN mobile app
It's no wonder social media users are getting serious chills just by looking at it.
Watch the video below.
Subscribe to watch new videos
Source: Yen.com.gh