- Villagers in India attempted to save a goat a python had swallowed
- They pulled it out of the python's mouth
- A video of the incident has gone viral
An incredible video has surfaced online showing villagers in Jaitpur village in the central Indian state of Madhya Pradesh pulling a snake out of a python's mouth.
The massive, 4.5-meter (15ft) serpent had slithered into the village and swallowed its unfortunate prey before the villagers ensnared it on Wednesday, July 5.
The villagers worked with animal rescue officials and a snake expert to try and save the goat. However, it had already died by the time they pulled it out.
PAY ATTENTION: Get snappy news on the go on the YEN mobile app
The snake expert, Akhil Baba, said: "It was a 15ft-long python. To take the reptile out from the pit among the bushes was a tough job but we managed it well with the help of villagers."
A rescue official, Riwat Tawari, also said: "We tried to save the goat but when we pulled it out, it was already dead."
READ ALSO: Lady graduates as a lawyer, goes back home to plantain seller mother (photos)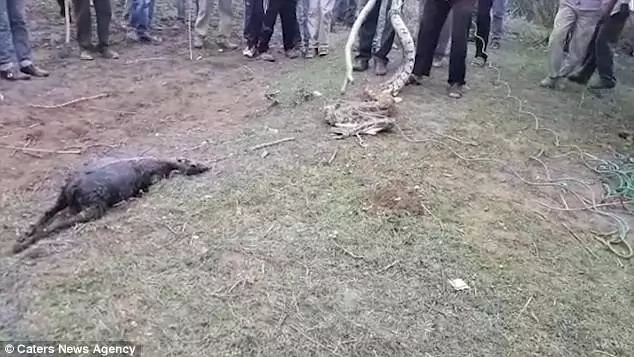 The snake survived the ordeal and was later released back into the nearby forest safely.
READ ALSO: My mum is my girlfriend - Paul Pogba
Watch it below.
Subscribe to watch new videos
Source: Yen.com.gh