- Three young kids have collected 50kg of plastic bottle bags
- Their aim was to have them exchanged for a wheelchair
- They donated the wheelchair to a special needs school and benefitted a disabled girl
Three young kids in Johannesburg, South Africa have collected 50kg of plastic bottle caps in order to get a wheelchair for a disabled student.
Bryce, 6, his sister Brayley Penny, 8, and their friend Jesalyn Johnson, 7, embarked on the heartwarming venture in December 2016.
Their cousin had informed them about The Sweethearts Foundation, which is running a programmed to recycle plastic tops and bread tags named "Tops & Tags."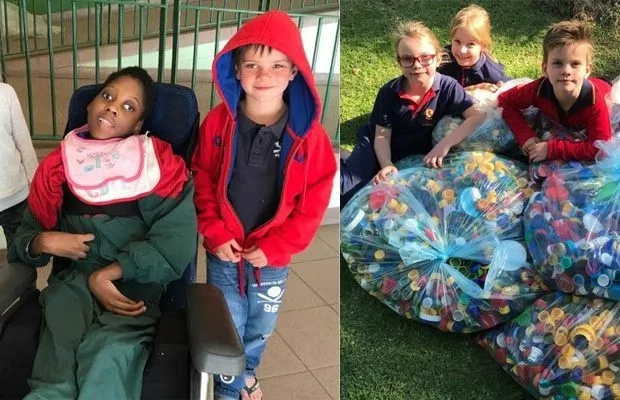 The Foundation offers one standard adult wheelchair in exchange for 450kg of plastic bottle caps and one standard children's wheelchair for 50kg.
In an interview, Kerry McKenzie, who is Bryce and Brayley's mother, praised the three kids' initiative when they completed it recently.
READ ALSO: Stunning in Red! Joselyn Dumas gets the ultimate surprise birthday party (Photos)
She said: "The children got all the tops by asking their friends [from school] to help collect, they also approached their school's tuck shop and local restaurants in the neighbourhood to save the lids for them as well."
READ ALSO: I'll report to the CID when my lawyer is available- A Plus
They handed over the wheelchair to the Lusito School for Special Needs Children in Johannesburg. As a result, a young disabled girl named Bonile benefitted.
Source: Yen.com.gh