Top 7 best football managers of 2018
They say a team is only as good as its manager allows it to be and in football, managers really do make the difference when it comes to winning silverware.
YEN.com.gh brings you seven of the world's best football managers courtesy of Four Four Two.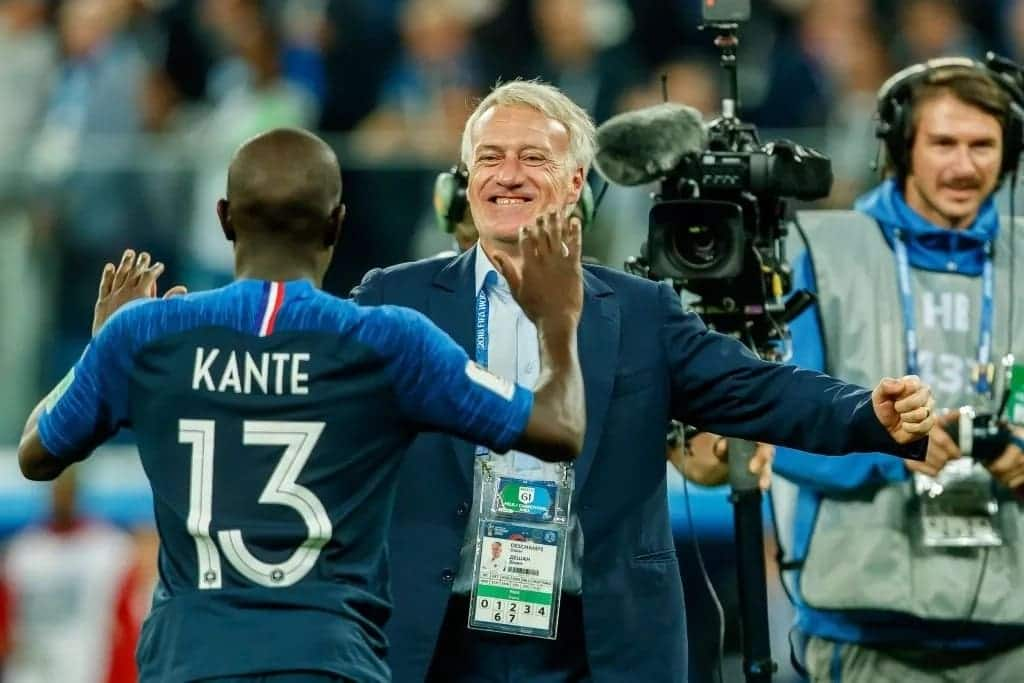 READ ALSO: Video of Liverpool fan describing Mo Salah's goal to a blind supporter surfaces
7. Maurizio Sarri
Sarri has proven to be one of football's most tactical managers having transformed Napoli into one of Europe's top teams before joining Chelsea.
While at Chelsea, the chain-smoking ex-banker has managed to break a number of records so far and also displays remarkable knowledge of the beautiful game.
His timely substitutions and strategic attacking football has proven to be most effective in the English topflight.
Despite lying in fourth position in the league with 34 points, the Blues are still in the race for the title.
6. Didier Deschamps
Deschamps took France to the 2018 world Cup in Russia and fought tooth and nail for his country to emerge Champions of the world.
That alone is sufficient to have him on the list.
Deschamps was heavily criticised in the build up to the summer Mundial and was accused of player bias, as well as having an overly conservative approach to the game.
Dropping Karim Benzema, Anthony Martial, Adrien Rabiot and Alexandre Lacazette was not taken too well by Les blues fans.
READ ALSO: Resolute Valencia sink sluggish Man United in tough Group H Champions League clash
But Deschamps, proved he knew what he was doing and delivered France its second World Cup.
5. Diego Simeone
Simeone has been in Charge of Los Colchoneros since 2011 and has transformed the team to a title winning machine.
They have now forced themselves to the top of the La Liga pecking order and sit as favourites together with Real Madrid and Barcelona.
He is the main reason players like Antoine Griezzman remain loyal to Atleti.
Adored by the fans and loved by his players, Simeone is one of a kind.
4. Jurgen Klopp
Klopp has carefully handpicked players he has studied for years and has assembled one of Europe's must lethal squads.
The likes of Mohamed Salah, Sadio Mane, Virgil Van Dijk and Xerdin Shaqiri are some of Klopp fine selections that has resulted in them going unbeaten in the Premier League.
As opposed to impulse buying that some Premier League managers have become accustomed to, the German has carefully planed his moves at Anfield.
Both thrilling and entertaining, Klopp had reignited the embers of Liverpool and his team looks set to finally lift the league and possibly win a double.
READ ALSO: Tragedy as teenage footballer dies after colliding with another player while making a save
The positive minded coach nearly won the champions League last season and was denied by Zinedine Zidane ultimate European glory in the final played in Kiev.
The reds currently sit on top of the league with 42 points and are undefeated in the league.
3. Massimiliano Allegri
Allegri is the shoe that fit perfectly on the Old Lady's foot as he has delivered Juventus back to winning ways and established dominance in the Serie A.
Having fallen short of Champions League glory in 2017/18, falling to the hands of his current player Cristiano Ronaldo then in Real Madrid colours, Allegri is doing big things in Turin.
Allegri now has CR7 to ensure he wins the elusive Champions League trophy that Juve so desperately desire.
2. Zinedine Zidane
Zidane is currently unattached and taken time to enjoy achieving a fete that may never be accomplished in the history of football.
In two and half years at the helm of his former club as an active player, Real Madrid, Zidane won three Champions Leagues out of three.
Dubbed by some the Master Yoda of football, the France world cup winner also won one Liga, two UEFA Super Cups, two Club World Cups and Supercope de Espana while at the Bernabeu.
1. Pep Guardiola
Premier League records have fallen like dominos ever since the former Barcelona manager touched down in England.
Earliest title win, most goals in a season, most consecutive wins, most away wins; is all Guradiola is about at Manchester City.
Although critics say that any manager would succeed with the kind of financial backing the Spaniard has received, no one can take away his accomplishments.
City are in second position and just one point shy of Liverpool after suffering their first league defeat of the season to Chelsea at Stamford Bridge.
Source: YEN.com.gh