Photos and video of church members kneeling for pastor as he walks go viral
Religion is a big part of people's lives, especially those in Nigeria. Many would go to any length to obtain the favour and mercy of whoever they consider to be the supreme Being. Because pastors and men of God are usually to be messengers of the Sovereign, they usually receive a fair share of the loyalties people give to the Divine.
The assertion above recently proved itself true through what can be regarded as a quizzical and surprising situation. A video showing an undisclosed man of God as he walked into his own church has been making rounds online and attracting the attention of people.
What is remarkable about the video is not the man or the car he came down as he walked into his church. Rather, it is the attitude and disposition of his church members at his arrival that has got many people talking.
As seen in the video, as soon as the man's car approached, the members of his church who were loitering around the environment instantly knelt down and put their two hands together in what looked like a mode of worship.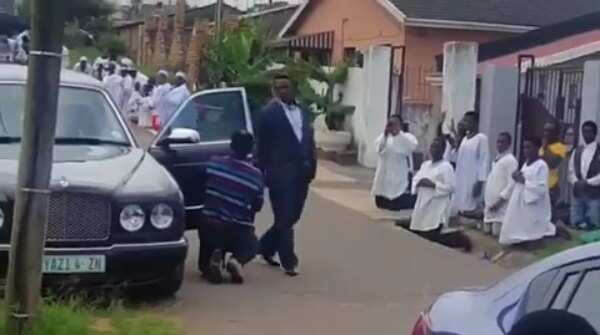 READ ALSO: Jonathan Mensah marries longtime girlfriend
The members who mostly wore white garments remained in this posture as the highly reverred man of God stepped out of the car. What was even more strange was that the driver who quickly opened the car door for the man remained kneeling while doing so.
As the man walked further into the interior of his church, many more people knelt in obeisance to him. It was almost as if they could not look him in the face.
READ ALSO: 10 best behaved celebrities of 2018
This video that has been making rounds online have attracted a lot of controversy as many could not understand the whole point of having to kneel down for a mere man.
See the video below:
Indeed, this is quite a very strange way of worship. None of the church members is yet to defend it in any way.
READ ALSO: Money Beast sprays millions of cash at Accra Mall (Video)
But then, considering what has been practised in the past by church worshippers, this is not so surprising. Recently, YEN.com.gh reported about some man of Godwhose congregation bow to him in worship during services.
Indeed, wonders will never end!
Ghana News Today: Sarkodie Storms Manifestivities| #Yencomgh
Subscribe to watch new videos
Click here to get the latest exciting English Premier League news. Get match highlights, reports, photos & videos all in one place
Source: YEN.com.gh