Policeman warms hearts after sharing emotional video with physically challenged son (photos)
- Paul Kungu and his disabled first born wished Kenyans a happy and prosperous 2019
- The officer urged parents with disabled children to show them love as they usher in New Year
- He strongly rebuked those who like keeping their handicapped kids away from the public
A down-to earth Kenyan policeman has melted hearts of many including his bosses with his special New Year message captured in an emotional video he shared on social media.
The Administration Police (AP) officer, who identified himself as Paul Kungu, and his first born son, Joseph Kungu, kicked off his message by wishing Kenyans and East Africans in general a happy, peaceful and prosperous 2019.
Paul then swiftly proceeded to what he considered the most important message of the day, which was about taking good care and loving children living with disability.
READ ALSO: Rev. Owusu Bempah predicts doom for Akufo-Addo if he fails to build the National Cathedral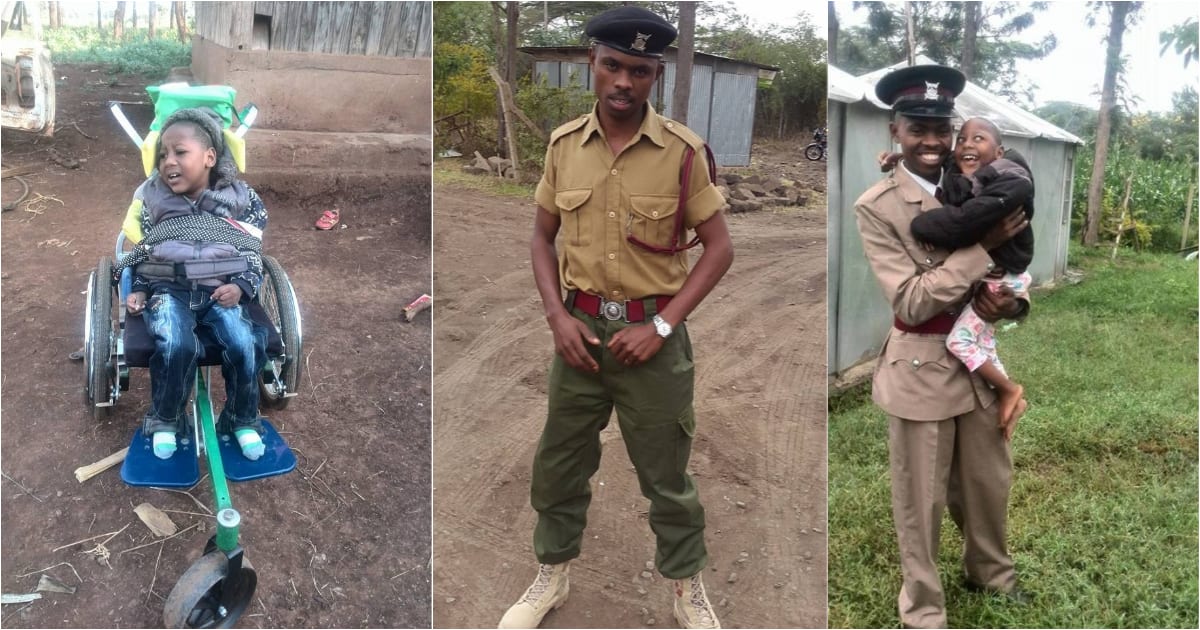 "I have come here with my disabled son, and the most important thing I wanted to share with my fellow Kenyans today is that we should treat them (disabled children) well. I urge parents with disabled children like mine to show them love," Paul, a proud father and ambassador of children living with disabilities, said in Kiswahili.
The officer argued not every Kenyan parent or family is blessed with a disabled child, and that there is a good reason why this is the case.
He pointed out incidents where heartless parents harassed and even killed their children because of disability.
Paul said: "Hawa watoto hawapewi familia zozote, lakini watu wenye roho za utu...Mungu anaangalia roho. Ni watu wengi wamekuwa wakiangamiza watoto walemavu kwa sababubu hawana utu (Not every family is blessed with these children, only those who can love and care for them. There are many who have been mistreating disabled people because they are heartless)."
The officer added unlike some parents, his son Joseph is a source of blessing for him and he can never hide him or his unconditional love for him.
He urged parents with physically or mentally disabled kids to stop hiding them in the house and instead bring them out and let the neighbours and the general public see and interact with them.
Incidents of family members or parents locking up and in extreme cases murdering their disabled sons and daughters are not new in Kenya.
A study conducted jointly by the Disability Rights International (DRI) and Kenyan Association for the Intellectually Handicapped (KAIH) in September 2018 revealed 37% of mothers in Nairobi had considered killing their disabled children.
READ ALSO: Afia Schwar launches fresh attack on NAM1
Source: YEN.com.gh