Photos of a slay queen selling fishes go viral on the internet
Social media is currently buzzing with excitement after some rather peculiar photos of a beautiful girl selling in the market, surfaced online.
It is common knowledge that Africans, especially the women are well endowed; mentally, spiritually and physically. The physical aspect however, is often talked about and praised everywhere.
While there are some women who tend to use their bodies to make money rather than work, others prefer to do the hard work regardless of how pretty they may be. This is why some photos of a beautiful and well endowed lady selling fish in the market, has since gone viral on the internet.
READ ALSO: Photo of NAM1 managing a single room before rising to fame and riches pops up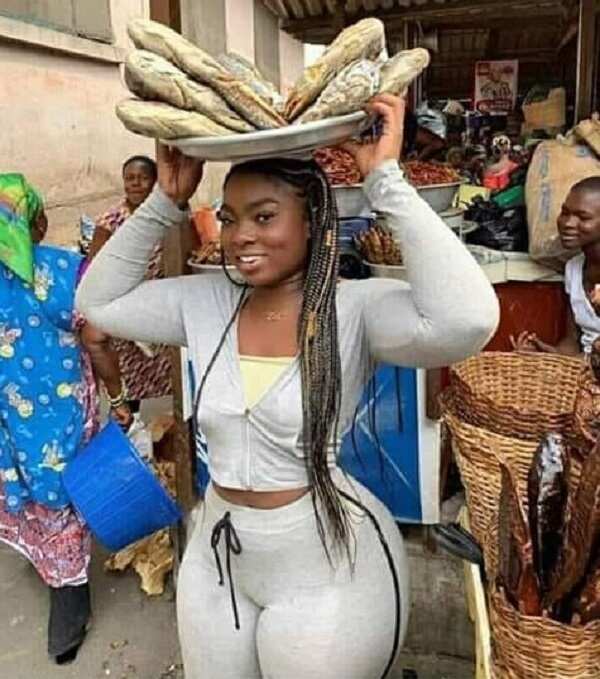 The pictures circulating the internet shows the pretty girl with a tray of fish on her head, in one of the photos and in another, she is pictured sitting by what is believed to be her stand.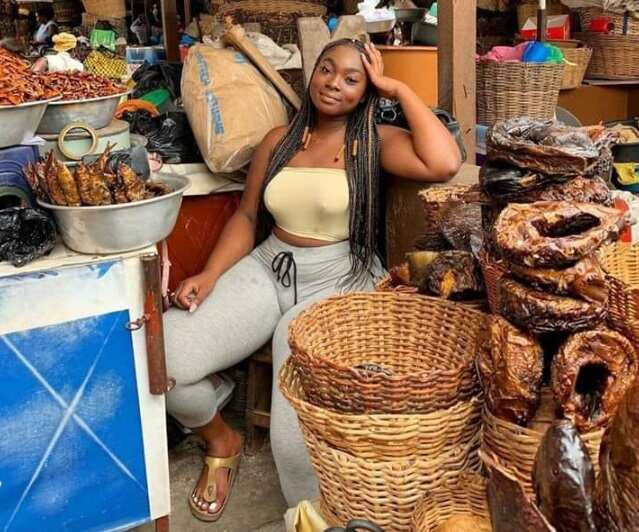 Whether this is a photo shoot or an actual representation of her life, the significance of the photo is not lost on many. In an era where a lot of people are more interested in making fast money using illegal and immoral means, this picture preaches the importance of patience, humility and hard work.
While this lady has chosen to make an honest living through the fish trade, a lady identified as Tejumola (@tejupretty.xx) on Instagram has chosen to be a debtor instead.
According to a seller who called her out on Instagram, Tejumola has refused to pay her the sum of GHC 374 as she kept lying that she is waiting for a friend to pay her GHC 5, 353.
The seller did not end there but further revealed screenshots from their conversations and how Tejumola have been reportedly rude to her. She got more angry after the slay Queen accused her of getting married to an old Oyinbo man.
READ ALSO: Akuapem Poloo buys her first car
Watch: Yenkasa: What Did You Do Before, During and After Christmas?| #Yencomgh
Subscribe to watch new videos
Click here to get the latest exciting English Premier League news. Get match highlights, reports, photos & videos all in one place.
Source: YEN.com.gh