The Nigerian education system has been criticised by some people as being below standard or not being how it used to be in the past.
Well, it seems the negative reports trailing some Nigerian universities is not ready to stop anytime soon.
According to several reports a female lecturer at the University of Nigeria, Nsukka (UNN), has raised questions after she allegedly punished some students by telling them to kneel down and raise their hands.
READ ALSO: Ashanti Region chief claims nurses are the most wicked professionals; explains reasons
This form of punishment which is very common in primary or secondary schools is considered unfit for university students who are regarded as adults.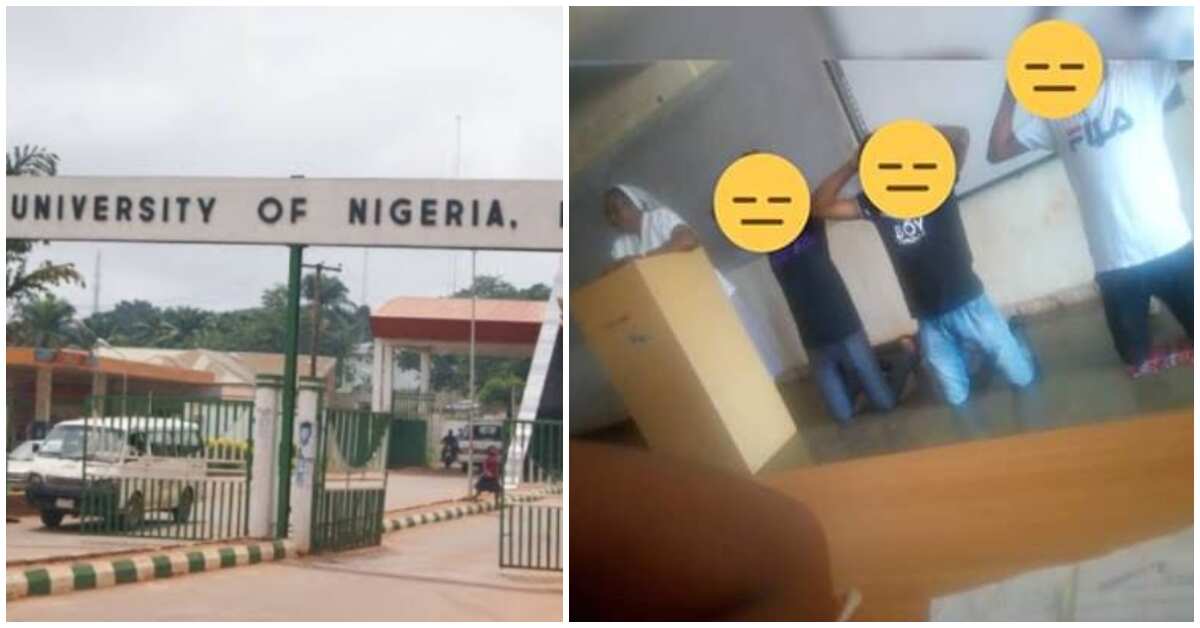 It was said that the female lecturer at the department of Microbiology punished some of her third year students for not sweeping the lecture room.
READ ALSO: Ursula Owusu reveals her three topmost musicians in Ghana
An eyewitness reportedly said: "This happened earlier today in 3rd year class, department of Microbiology, University Of Nigeria Nsukka.
"No matter how anyone would want to look at it, this is outright insanity, to say the least. How do you mete out this kind of punishment to university students for not sweeping their classroom when we've got non-academic staff who're paid to get stuff like this done???
"If people like this lecturer are not called to order, a time will come when they'd flog and physically abuse students and it will still be swept under the carpet. This is sheer humiliation and totally unacceptable."
READ ALSO: Evangelist Papa Shee claims Obofuor and Obinim are agents of the devil
Star Gist: I started acting because i was told i look like Suzy Williams - Kisa Gbekle| #Yencomgh
Subscribe to watch new videos
Have national and human interest issues to discuss?
Know someone who is extremely talented and needs recognition?
Your stories and photos are always welcome. Get interactive via our Facebook page.